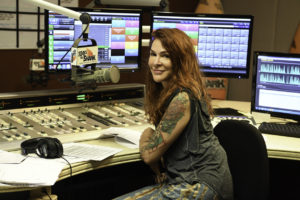 Melissa has worked as a radio personality in New York, Boston, Los Angeles and Miami. She has experience as a host and co-host in mornings, middays, afternoons and evenings in a variety of music formats with a specialty in co-hosting and artist interviews. She is also an experienced newswoman. Her most recent work was at Entercom, Miami.
RADIO SAMPLES
Melissa Maxx Solo KLOS
Melissa on The Heidi and Frank Show
Melissa on the Mark and Brian Show
Melissa Maxx/Ken Anthony "The Show with No Name" podcast
One of Melissa's favorite things is celebrity interviews. Below is a sample of her hour long interview with Duff McKagan of Guns N' Roses.